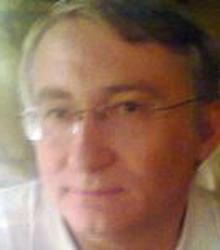 Miron Cristea
Assistant Professor
Email: [javascript protected]
Office: Room B111
LEU Complex
Bd. Iuliu Maniu, nr. 1-3
Sect. 6, 061071, Bucharest, Romania
Publications
2017
, "
2016
, Dispozitive Semiconductoare de Putere - Îndrumar de Laborator [Book]
2014
, "
, "
2011
, "
Degrees
1999 - Assistant Professor
1997 - PhD  Thesis: "Contributions to the study of static and dynamic behavior of modern power semiconductor devices"
1991 - Teaching Assistant - full time
1988 - Teaching Assistant - part time
Professional Experience
Electronique (FILS), Power Semiconductor Devices, Electronic Circuits and Devices, Image Sensors
SPICE, SILVACO-TCAD, Object Oriented Programming
Academic Activity
1st Semester: Electronique, Project 1, Electronic Devices
2nd Semester: Electronic Circuits
Selection of publications:
Capacitance-voltage Profiling Techniques for Characterisation of Semiconductor Materials and Devices, 

Emerging Trends in Electrical, Electronics & Instrumentation Engineering

: An international Journal (EEIEJ), Vol. 1, No. 3, August 2014 
Unified model for p-n junction current-voltage characteristics,

Central European

Journal of Engineering

(CEJE), Volume 1, Number 1, 113-116, DOI: 10.2478/s13531-011-0006-9, 2011
Integral equations for electrically charged space regions,

Proc. of the National

Symposium of Theoretical Electrotechnics

 (SNET) 2010, Bucharest, Romania, December 3, 2010
Calculation of the Depletion Region Width and Barrier Capacitance of Diffused Semiconductor Junctions with Application to Reach-Through Breakdown Voltage of Semiconductor Devices with Diffused Base,

Proc. of International Semiconductor Conference

(CAS)

 2007

(an IEEE event), Sinaia, Romania, Oct. 2007.