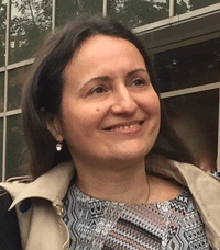 Monica Dascălu
Professor
Email: [javascript protected]
Office: Room A423
LEU Complex
Bd. Iuliu Maniu, nr. 1-3
Sect. 6, 061071, Bucharest, Romania
Phone: [javascript protected]
Publications
2016
Conference:
ISBN 978-606-515-726-2, 154 pages
, Self-Organizing Systems [Book]
2012
, "Personalized support system for patients with forearm amputations", ROMJIST (ISI),Vol 15, nr.4, december 2012, pag 368-376, ISSN 1453-8245, WOS:000323706200006 [Journal]
2009
, "Automate celulare. Modelare și aplicații" [Book]
Degrees
2014-2016  Master Program: "Media, Public Communication and Globalization" at the Faculty of Journalism and Communication Sciences, University of Bucharest. Master degree in Communication Sciences
1992-1998 PhD studies at Politehnica University of Bucharest, Romania. PhD in Microelectronics with the thesis Cellular Automata - a Solution to Reduce VLSI Complexity
1986-1991 Faculty of Electronics and Telecommunication, Politehnica Institute of Bucharest, Romania. Electrical Engineer, specialized in Microelectronics
Professional Experience
Academic ranks in Politehnica University of Bucharest, Faculty of Electronics, Telecommunications and Information Technology, Department of Electronic Devices, Circuits and Architectures:
1992-1999: teaching assistant
1999-2003: lecturer
2003-2017: associate professor
2017: professor, PhD advisor
Research positions at the Center for New Electronic Architectures (CNAE), Romanian Academy:
1991-1998: scientific researcher
1998-2005: researcher CPIII
2005-present: researcher CPII, Director of CNAE 
Director of the Center for New Electronic Architectures, Romanian Academy
Director / responsible of 14 research projects (one international)
Member in the research team of 19 projects (three international)
Academic Activity
Author of 4 books published at publishing houses recognized by CNCIS (unique author of two books) 
Co-author of 3 chapters in books published at international publishing houses
Author of 2 teaching volumes published at publishing houses recognized by CNCIS 
Author of over 70 scientific articles, of which:
   30 ISI-Thompson / Web of Science articles 
   21 articles in BDI volumes
   75 citations in ISI/BDI articles
Cumulative impact factor: 7.8
H-index: 5
Author of three invited papers at international scientific events.
Member of the Editorial Board of two Scientific Journals and referee of a ISI Journal.